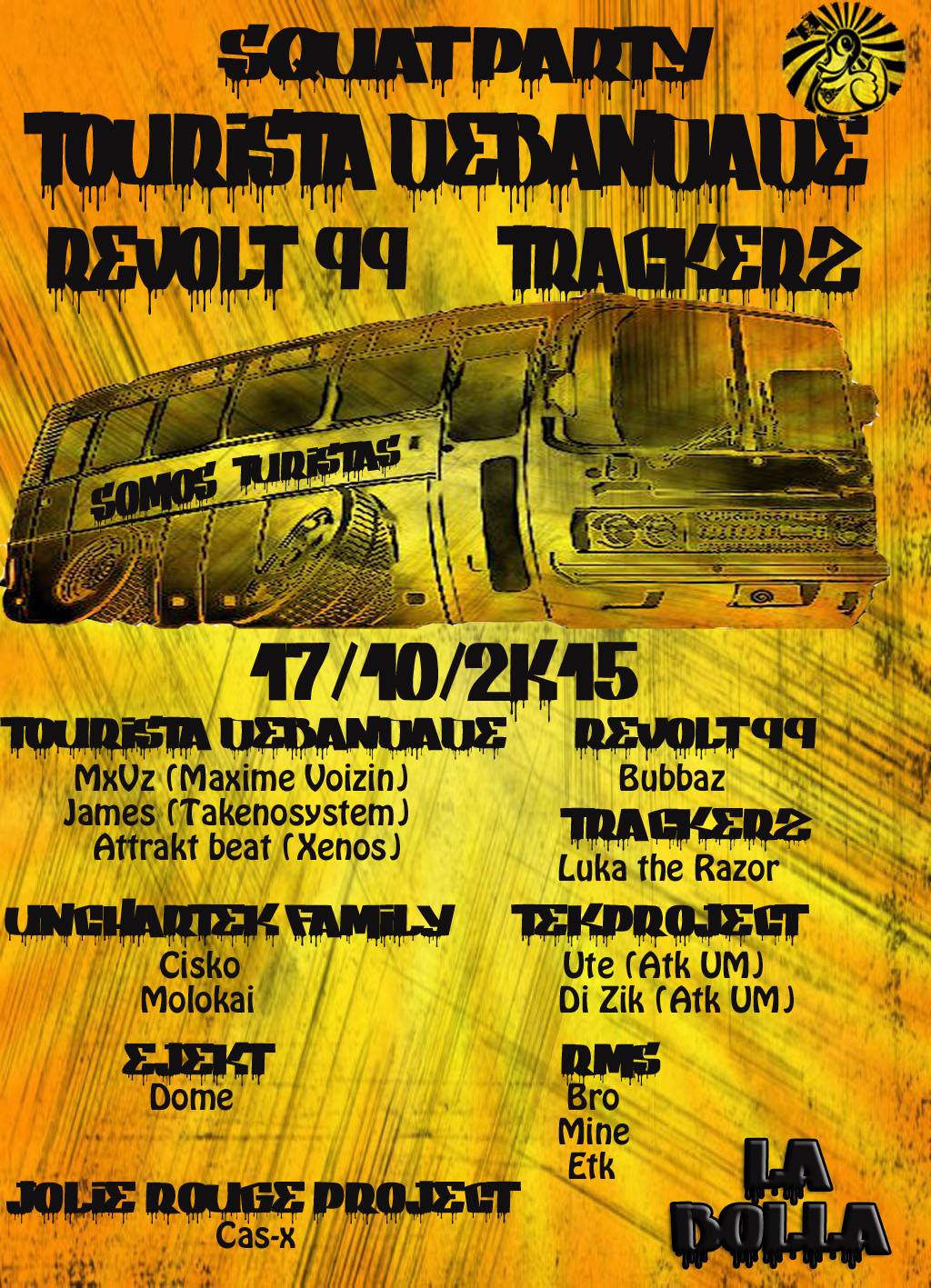 ▄ █ SOMOS TURISTAS █ ▄
17 OTTOBRE 2015
from 22 to 12
Unchartek Family and Tekproject sono lieti di presentarvi questa fantastica nottata di bombe a mano senza precendenti
▬▬▬▬▬▬▬▬▬▬▬▬▬▬▬▬▬▬▬
In consolle ospiti eccezionali:
● MxVz (MAXIME VOIZIN)
● James (TAKENOSYSTEM)
● Attrakt beat (XENOS)
▄TOURISTA DE BANDADE▄
● Bubbaz
▄REVOLT99▄
● Luka The Razor
▄TRACKERZ▄
● Cisko&Molokai
▄UNCHARTEK FAMILY▄
● Ute&Traumatik
▄TEKPROJECT▄
●Bro&Mine
●Etk
▄RMS/OTAKON▄
●Cas-x
▄JOLIE ROUGE▄
>>>> Il Lab57 – Alchemica sarà presente con la postazione chill-out , info point SOStanze, Primo Soccorso, etc…!!!! <<<<<
▬▬▬▬▬▬▬▬▬▬▬▬▬▬▬▬▬▬▬
BOLLA SQUAT PARTY !!!
SPAZIO OCCUPATO BOLLA !!
ENTRY : 3 nEUROni
**IT'S NOT A RAVE** USE THE BRAIN ** RESPECT THE PLACE AND WHO WORK FOR YOU ** NO DRUGS RESPECT YOURSELF ** OUR DRUG IS MUSIC **
Non è un rave party — Usate il cervello — Rispettate il posto e chi lavora per voi — Siete i benvenuti ma non siete a casa vostra — Il bar c'è e ha prezzi popolari no bottiglie all'interno — NO DRUGS rispettate voi stessi — La nostra droga è la musica –
▬▬▬▬▬▬▬▬▬▬▬▬▬▬▬▬▬▬▬▬
MORE INFO SOON
STAY TUNED , SHARE AND DANCE DANCE DANCE!!!
https://www.facebook.com/events/850580018389197/